Japan's popular snow resorts  
The cold season is coming now.
Are you looking for some snow resorts in japan?
You can enjoy skiing which you can do only in this season!
Now we will introduce you to some recommended ski resorts, it's must-add places in your bucket list!
 【Niseko Grand Gurafu in Hokkaido】
Niseko, a spectacular snow resort in Hokkaido, is probably the most visited ski resort by foreign travelers.
 【GALA Yuzawa in Niigata prefecture】
Just 75 minutes from Tokyo Station, Gala Yuzawa is the easiest resort to access by train.
 Yuzawa has excellent snow which is great destination for those people who are interested in snow sports.
【Appi Kogen Ski Resort in Iwate prefecture】
Boasting 21 different slopes and quality snow, the Appi Kogen Ski Resort is at the same latitude
as Colorado's Apsen in the United States.
 【Zao Onsen Ski Resort in Yamagata prefecture 】
Zao Onsen Ski Resort features long runs with good snow, many slopes for all skill levels.
Zao is also popular for "Juhyo" which are frost-covered trees and also called "snow monsters".
 【Hakuba Happoone  in Nagano prefecture】
Hakuba is a popular ski and snowboard town located in the northwest of Nagano Prefecture.
Happoone resort was once a host to downhill events in the 1998 Nagano Winter Olympics.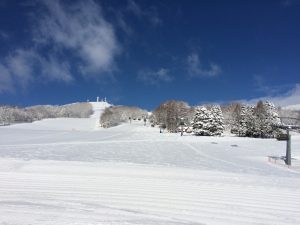 You can get lots of brochure about ski resort and
make a reservation of some ski tours easily in Tokyo city i.
So what are you waiting for?
Come and try the ski resorts in japan!