Local specialty shop of Chiba Prefecture CHIBA I・CHI・BA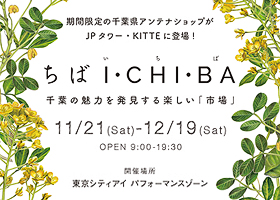 You would find the attraction of Chiba Prefecture from this fun event.  "ICHIBA=market".
Brand-new Chiba Prefecture and
Constant Chiba Prefecture.
The local specialty shop with full of attracion of Chiba Prefeture, "Chiba I・CHI・BA" would be open for a  
limited time!   The event includes the sales of local specialty, tourism and so on by each municipality from Chiba Prefecture.
We look forward to serving you with various events and present plans.
DATES:NOV 21(SAT)~DEC 19(SAT)
TIME:9am to 7:30pm (NOV 21:from 12am、DEC 19:until 3pm)
PLACE:JP TOWER/KITTE B1F TOKYO CITY i Performance zone
WEB:
http://chibaichiba.jp/
SPONSOR: Chiba Prefect. Gov., Dep. of Commerce and Industry Tourism Planning Section
CONTACT:
03-5275-5105(Chiba I・CHI・BA head office)
043-223-2415(Chiba Prefecture Tourism Planning Section)