TOYAMA WEEK in TOKYO 2015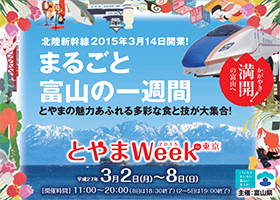 Hokuriku Shinkansen (bullet train) opens its doors to new passenger service on March 14th, 2015!
This PR event would send out various attraction of TOYAMA prefecture for a week,  just before Hokuriku Shinkansen opens.
・entertainment stage and experiencing event.
・demonstration of craft products, experiencing of artifices, display, and selling.
・Selling special boxed lunch.
・Selling the products made in Toyama.
Date:
March 2(Mon)~5(Thu) 11:00~19:00
6(Fri)~7(Sat) 11:00~20:00
8(Sun)       11:00~18:30
http://toyama-week.com/