Special Display for the New Year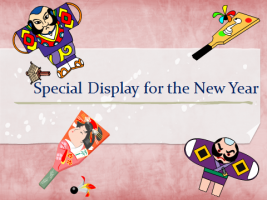 Tokyo City i is now filled with Japanese New Year atmosphere!  
◆◇TAKO ( k
ite )
◇

◆
Many kites from Tako (Kite) Museum are displayed.
Visitors can see some rare kites.

◆◇KENDAMA (cup and ball) ◇◆
Visitors can try Kendama from Hatsukaichi City where kendama originated !
Please enjoy trying kendama which is popular around the world nowadays!
◆◇KARUTA (Japanese cards )◇◆
Karuta is one of the most popular traditional New Year's games in Japan.
We have exhibition of "Katsushika Karuta" from Katsushika ward.
◆◇HAGOITA ( battledore )◇◆
We also have exhibition of hagoita in association with Toshino-ichi  Battledoresellers Association
.
27 December 2014 -5 January
2015
Tokyo City i in KITTE, JP Tower

Please come and enjoy the Japanese traditional New Year!!