Shizuoka City Tourism Promotion ~feat. Chibi Marukochan and Hobby culture~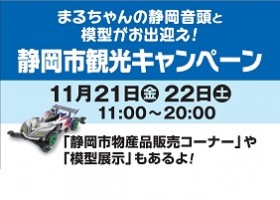 Promotion event on "Christmas Festa"(Hobby event) which will be held in Shizuoka City on Dec.13th(Sat) and 14th(Sun).

Featuring on one of the famous manga character "Chibi Marukochan" and TAMIYA's scale models as a part of promotion of Shizuoka City as a "Hobby City."
[Date] 2014, Nov.21st(Fri) - 22nd(Sat)
[Time] 11:00 am~8:00 pm

[Content]
1. "Maruchan'' and Shizuoka city PR 
① "Maruchan's Shizuoka Ondo (traditional dance music)" stage performance
② Sales of local products of Shizuoka City
・ The "Omiya(souvenir) Project" products, "Shizuoka Aoi Premium" certified products
・ TAMIYA products
③ Answer to our quizzes! Win a prize!
④ Tourist information booth
2.Display of "the town of hobby"
・Display of successive Mini 4WD
・Latest addition of Mini 4WD  ・Completed product of "KUMAMON"Mini 4WD  ・"KUMAMON"radio control
・Completed product of "KUMAMON" Mini 4WD ・"KUMAMON"radio control
・Display of  ''sweets deco''
・Distribution of advertising poster of Christmas Festa
・Distribution of advertising of  "TAMIYA plamodel factory "