Event Schedule for December 2019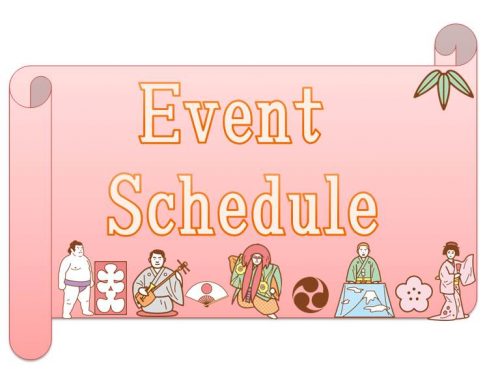 ◆ Event Schedule for December◆

You can always meet something new at Tokyo City i, such as for an idea of travelling, sightseeing, and finding local specialties!

Please stop by at the Event space of Tokyo City i whenever you visit Tokyo station and KITTE!

*Name and schedule of the event is subject to change without notice.




---


Holding to December 14 (Sat)

Local specialty shop of Chiba Prefecture CHIBA I・CHI・BA (Ichiba means market)

The shop that specializes local products from Chiba prefecture, Chiba I・CHI・BA will come to Tokyo City i for a limited time!

The event includes the sales of local specialty, tourism and so on by each municipality from Chiba.

You would find the attraction of Chiba prefecture at this fun event!


---


December 16(Wed)-17(Tue)

Nigata Tourism PR/Products Event  -An event where you can fully experience the charm of Nigata Prefecture!-

There will be plenty of information such as ski information, new rice, sake, Le Lectier, etc., as the season begins.

The Nigata product sales corner is also substantial! In addition, original stamps tailored to the event will also be on sale.


---


December 18 (Wed)-20 (Fri)

Japan's best village for Female longevity, Kitanakagusuku Village Fair in Okinawa

Kitanakagusuku Village's special products such as "Passion Fruit" and "Arta" are the main items in the village.

There are also sightseeing PRwith yuru-chara, dressed girls, and sanshin performances, so please take this opportunity to feel the wind of southern Okinawa!


---


December 21(Sat)

Yatsugatake Winter Marche from Fujimimachi  -Get together hill climbing lovers! Enjoy winter Yatsugatake in Tokyo!-

Yatsugatake attracts various climbers from beginners to advanced people throughout the year.

The appeal of Yatsugatake, a sacred place for mountain climbers, is delivered to Fujimicho(Nagano Prefecture), located at the foot of Yatsugatake and the closest gateway to Tokyo.

There would be Yatsugatake mountain hut owners and climbing guides's talk sessions, Yatsugatake photo exhibition by photographer Kasane Nogawa, and other shops and products that will want to visit after climbing Yatsugatake.

Opportunities to get useful information for your next mountain trip and great coupons for your next mountain trip! Don't miss this event for all mountain lovers!


---


December 22(Sun)-23(Mon)

First Patronage Program 2019  -New craft artist, excavation!

"Support Hajimete" with everyone!-

The First Patronage Program connects "people who are about to become creators toward society" and "users" in the field of crafts, and "supports the start of young creators" through the act of purchasing works. The purpose is to extend this awareness to society.

In this event, 24 creators recommended by 12 prestigious crafts nationwide will exhibit. We will display and sell works with the theme of "crafts that you can love in your life".

Buyers will receive a First Patron Card as a proof of support! You can watch over the creators in the future and enjoy their activities together.


---


December 25(Wed)

Surprisingly close!? Tsuchiura  -Tsuchiura City Migration Fair-

Introducing Tsuchiura City, Ibaraki Prefecture, which is surprisingly close from Tokyo!

About 50 minutes by train from Tokyo Station. We sell Tsuchiura brand certified products nurtured by the power of water and earth in Tsuchiura City, Ibaraki Prefecture.

You can find a collection of sweets using the "renkon", the highest production volume in Japan! and Phantom Wagyu beef, lottery with lots of pork, and distribution of special soy sauce ♪


---


December 26(Thu)

KITTE GRANCHE Rakugokai  -Young Rakugoka Supporters-

Free viewing! Smile on your way home from work! Deliver the second fresh laughter.

Appearance:  Koitsu Takigawa