Event Schedule for October 2018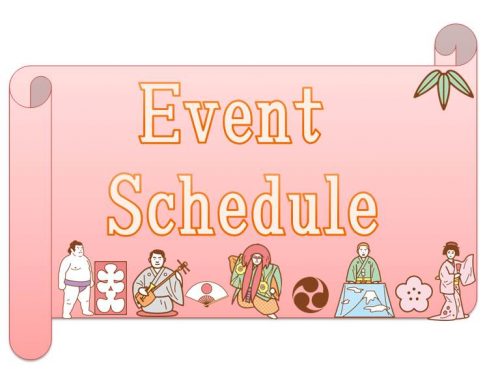 Event Schedule for OCTORBER!
You can always meet something new at Tokyo City i, such as for an idea of travelling, sightseeing, and finding local specialties! Please stop by at the Event space of Tokyo City i whenever you visit Tokyo station and KITTE!
*Name and schedule of the event is subject to change without notice.
---
2018
Octorber 5th(Fri)-6th(Sat) 10AM - 7PM
"Stationery Girls' Expo Preview"
Prior to "Stationery Girls' Expo 2018" to be held in December, pre event "Stationery Girls' Expo Preview" will be held!
Advance sale tickets and limited advance items will be released ahead of time!In addition, we will also sell stationery and do workshops on the theme of "letter" what is named after KITTE!
---
Octorber 7th(Sun)-8th(Mon) 7th 10AM - 6PM  8th

 

10AM - 5PM
"The charm of Minobu fair"
We packed delicious and fun of Minobu.
You can enjoy tasting and sampling of "Akebono soybean" which is said to be the first phantom soybean in the market and not available on the market, and a wood tent experience of popular experienced accommodation facility "Minobu Nature no Sato"!
The local character will also come and visit you! !
---
Octorber 12th(Fri)-13th(Sat) 12th 3PM - 7PM  13th 11AM - 6PM
"Taisho University" Our Second Hometown Exhibition"
Students from Taisho University are planning to conduct property exhibitions in 12 regions throughout the country who took care of them! !
---
Octorber 14th(Sun)-16th(Tue)  ※To be determined
"Nasu region production fair"
We are planning to hold a product exhibition in the Nasu area! !
---
Octorber 18th(Thu) 6:30PM - 7:30PM
"KITTE GRANCHE Rakugo Kai (Japanese Verbal entertainment)"
The audience who watches the whole show will get a small gift.
Priority seats will be available for customers with a receipt which you spent 500 yen or more at KITTE GRANCHE on the same day. Numbers of priority seats are limited.
---
Octorber 19th(Fri)-21th(Sun) 11AM - 7PM  ※ The last day is until 4PM.
"Come! Tasty Hyogo Real feeling fair"
We sell special products that are superior to Hyogo prefecture, sightseeing information, information on resettlement and settlement etc.
There are also tasting that you can feel the tast, so please come to the venue!