Event Schedule for July 2018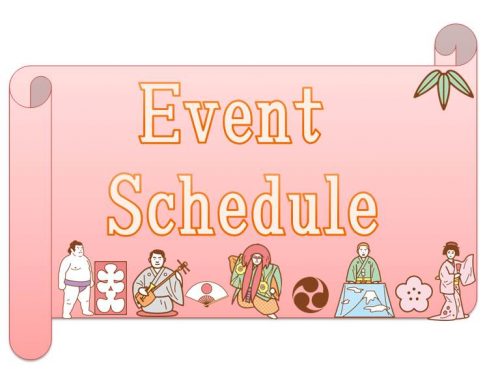 Event Schedule for JULY!

You can always meet something new at Tokyo City i, such as for an idea of travelling, sightseeing, and finding  local specialties! Please stop by at the Event space of Tokyo City i whenever you visit Tokyo station and KITTE!

※Name and schedule of the event is subject to change without notice.
2018


---


7/3(Tue)

[Kisarazu DMO TakeOff Event 2018]

11:00~18:30

Kisarazu-City is located in Chiba prefecture where is accessible in about 90 minutes from Tokyo
station by train. It is a nice spot for sightseeing. It will be promoting a lot of attractive things
of Kisarazu-City!


---


7/4(Wed)-7/5(Thu)

[Promotional event of Miyazaki prefecture 3 Stars food Festival]

4th 11:00~20:00
5th 11:00~19:00

Food is always good in South part of Japan. Great food from Miyazaki prefecture will be available
for purchase.
Some cute regional mascots also will come to the event far from Miyazaki prefecture to meet you!


---


7/7(Sat)-7/10(Tue)

[CULTURE TRIP ~Sento~]

11:00~19:30

Sento, Public bath, is the one of unique Japanese culture that you should try if you visit in Japan.
Unique items relating Japanese bath will exclusively be available for purchase.


---


7/12(Thu)-7/16(Mon)

[Come on! HYOGO Food Fair]

11:00~19:00
16th will be untill 16:00

Hyogo prefecture is celebrating their 150 anniversary this year. Promoting the exclusive local
specialities that are available for purchase. You can get a lot of information of sightseeing and
lifestyle in Hyogo prefecture. Food tasting is offerd at the event.


---


7/18(Wed)

[Wednesday Music Night]

18:30~19:30

There will be a live performance with a local promotional talk.
The guest will be announced on the official website.


---


7/19(Thu)

[KITTE Granche Rakugo Kai(Japanese Verbal entertaiment)]

18:30~19:30

An audience who watches the whole show will get a small gift.
Priority seats will be available for customers who spent 500 yen or more at KITTE Granche on the
same day. Numbers of priority seats are limited.