SNOW MONKEY 2015
It is the coldest period of the year in Japan and  we had snow in Tokyo a couple days ago.
One of the amusements in like this wintertime is the bathing in an ONSEN for Japanese people.
But acutually,the amusement is not only for human....
Have you ever heard about SNOW MONKEYS?
Yes,you can see bathing monkeys in a hot spring in the snow there,Jigokudani Yaen-Koen(Monkey Park) in northern part of Nagano prefecture.
One of our staff went to this popular spot for tourists from overseas last week.
After 30 minutes walk on a snow-covered road......
Here it is!!!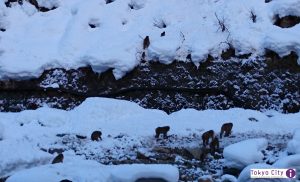 Wow!!
How cute they are!!!
If you visit us,we can tell you how to get there or what kind of equipment you should prepare to go there.
You can also book the tour operated by SUNRISE TOURS in Tokyo City i.
Jigokudani Yaen-Koen(Monkey Park)
(Approximately time required:  1.5h from Nagano sta.)
http://www.jigokudani-yaenkoen.co.jp/english/html/top_e.htm
Feb.03  2015