Promotion Event of Nara Prefecture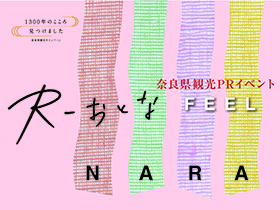 R-OTONA FEEL NARA
・Introducing of unknown charm of
Nara
by
tasting and sale of Nara's sake and specialty products
and
exhibition of "NARAMONO"
including household goods that have been introduced in Nara Special Features on "Liniere" magazine.
We would sell a rare soda-pop which is limited each day.(※
The sale will end when all the stock has been sold.
)
SCHEDULE: Fri 15- Sun 17 Jan. 2016
TIME:11am~8pm ※17 Jan. is untill 6pm.
PLACE:Tokyo City i, performance zone(JP Tower, KITTE B1F)
HOST:Nara Prefecture Tourist office Tourism Promotion Division
CONTACT:0742-27-8482