MAINICHI AGRICULTURE CONTEST PRE-EVENT「FOOD RESEARCH FAIR FOR GREEN AND EARTH」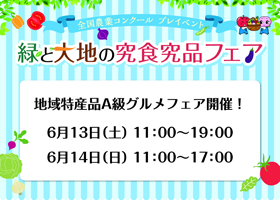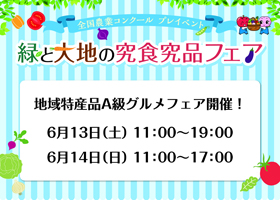 It's a PR event for national agriculture contest that the Japanese top farmer would entry.
It's a PR event that backups agriculture, and agricultural products sale which centering on regional goodies and the host prefecture Toyama.
☆NOUKON de NOU-1☆
There would be a comedian live show about agriculture and food.  You might see the future star!!
・DATE:
Saturday, June 13, 2015, at 11:00a.m. to 7:00p.m.
Sunday, June 14, 2015, at 11:00a.m. to 5:00p.m.
・PLACE:
JP TOWER /KITTE B1F  Tokyo City i Performance Zone