Event Schedule for June 2019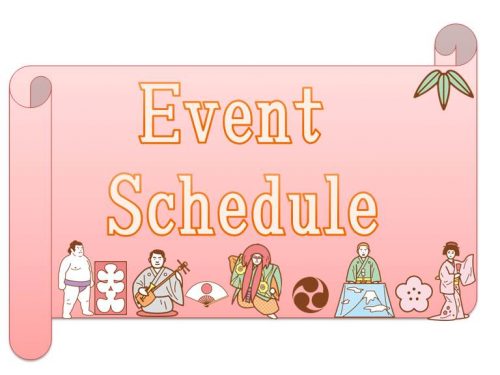 Event Schedule for June!
You can always meet something new at Tokyo City i, such as for an idea of travelling, sightseeing, and finding local specialties! Please stop by at the Event space of Tokyo City i whenever you visit Tokyo station and KITTE!
*Name and schedule of the event is subject to change without notice.
---
6/1(Sat)~6/2(Sun)
Wakayama Tourism Product Exhibition
~
Nagomi
, Gifts from Wakayama~
There will be much great tourism information of Wakayama prefecture.
Also popular local mascots in Wakayama will be gathering and warming up the events. We look forward to seeing you at the event!
---
6/6(Thu)~6/7(Fri)
Fuji City Tourism Promoting Exhibition
~We are from the base of Mt. Fuji! ~
The event will promote of the Mt. Fuji which is around corner for climbing season, and Fuji city. Tasting of the first picked tea of this year and boiled whitebait, and selling fruits jelly which is very popular and originated in Toyama.
Cha-musume who are known as the girls picking up tea leaves, will present a tea pack to 500 customers for both days.
---
6/13(Thu)
KITTE GRANCHE Rakugo Kai (Japanese Verbal entertainment)
Admission free! A laugh on your way home from work! We will deliver a second fresh laugh.
Priority seats will be available for the customers with a receipt which you spent 500 yen or more at KITTE GRANCHE on the same day.
Numbers of priority seats are limited.
※You can also stand and see in the back chair.
---
6/20(Thu)~6/22(Sat)
Ikinoshima-island in Nagasaki Prefecture Fair
~Great cuisine! Ikinoshima-island~
Ikinoshima-island is where known as the origin of Japanese barley shochu and there are a lot of great foods. You can purchase local specialities such as sea urchin and barley shochu. Also a local character "Jinmenseki-kun" will show up for the event. There also will be a lottery event which you might get a great gift.
---
6/24(Mon)~6/26(Wed)
Tokyo Cinema Islands ~Special Product Exhibition of Islands And Cinema~
Let's find and experience an attraction of islands by movies.
"
Kyo-mo iyagarase bento
" release on 6/28 and "
Oishii kazoku
" release on 9/20, those movies will be collaborated! And there will be held a talk show of both movies' directors.
You can also enjoy local specialities of Tokyo islands and feature exhibition of the movies and film commission.