☆Tokyo City i Spring Festival 2018☆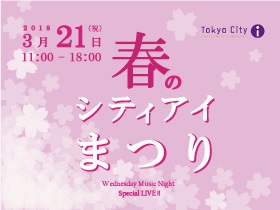 <Tokyo City i Spring Festival 2018>
Please join us and celebrate our 5th anniversary together!
We are going to have so many fun activities to entertain you all!
It would be great opportunity for visitors to experience Japanese culture, such as calligraphy, kimono dressing and Japanese tea tasting!
Please don't forget to check out with the unique writing called "WARAI-MOJI, artistic calligraphy that will make you smile.
You can also enjoy the musical live performed by musician!!
Date: 3/21/2018
Time: 11:00 am - 6:00 pm
Location: KITTE B1F Tokyo City i
Contact: 03-3217-2054
Sponsored by Tokyo City i